A Military Family's Story of Support
June 23, 2021 | 3-minute read
As the daughter of a Veteran, a military spouse, and a VA nurse, Debbie knows the toll that deployments can take on a loved one. Growing up, her father deployed multiple times. She noticed that whenever he came back home, he always seemed a little different.
"He got gradually more and more angry, and we didn't really understand what was going on," Debbie says. She and her sister felt disconnected from their father, and his change in personality started to affect their upbringing. "He wasn't any fun anymore, and he didn't like to go to crowded places," Debbie recalls. "He would startle really easily."
More recently, when Debbie's husband Jim –– a member of the U.S. Air Force — went on numerous deployments throughout his career, she noticed a familiar pattern each time he returned. "[Jim] started getting more and more upset. He abused drugs and alcohol for a little while," Debbie says. "It was really scary, because we had at that point three little kids that were under 6 years old in the house. I knew what it was like to be a kid going through that."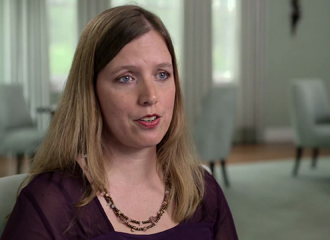 As Debbie was dealing with her husband's change in behavior, her father began talking to fellow Veterans about their experiences. Hearing similar stories from others helped him realize that he wasn't alone. It also allowed him to help Debbie and Jim.
"When [my father] saw Jim start having trouble, he was very supportive," Debbie says. Her father encouraged Jim to make a change for the sake of his wife and their kids — as Debbie explains, to "take the steps that I wasn't strong enough to take."
"When [Jim] realized that his whole family was carrying the burden, that really made a big difference," Debbie says. "Once he started getting help, I think it surprised him how quickly he turned things around. He's doing much better now."
Working with VA counselors has helped improve their marriage and strengthen Jim's relationship with their children. "That has been really helpful for my children to understand what PTSD is — how it affects you," he says.
This month, we celebrate Father's Day and the impact that fathers can have in our lives. For Debbie, her father's decision to seek help for his mental health challenges became instrumental in helping her husband get treatment. It's allowed Jim to resolve the tensions in his marriage and become a better parent for their children.
"It's not about courage," Debbie says. "It's about being smart [and] doing the smart thing — not just the brave thing."
---