Finding Her Direction
September 15, 2022 | 4-minute read
Mary Ann was an aviation support equipment technician when she transitioned out of the U.S. Navy after eight years of service. "I got out; I got little jobs here and there," she says. She thought she was handling everything well — until she wasn't.
Over time, Mary Ann started drinking more and then introduced drugs into the mix. Her escalating substance misuse "started to really be an issue," she says. "It took over my life." As she wrestled with worry that she wasn't being a good mother, one of her daughters said, "Mom, I don't know what you're doing, but something is not right, and you need to get help." Mary Ann says that's when depression set in.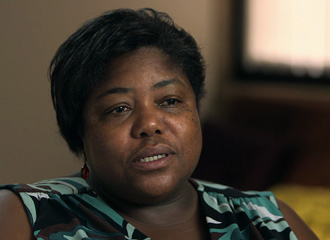 On her way to work one morning, Mary Ann started crying uncontrollably. "I don't know where that came from, but … I could not drive. I had to pull over on the side of the street. And I called my daughter, and I said, 'Look, I don't know what's wrong, but I need something. Something's wrong.'"
The pair went to a VA facility that day. Mary Ann was admitted for inpatient treatment, diagnosed with severe depression and prescribed medication. When she left the facility, Mary Ann was assigned to a doctor near her home for monthly visits to manage her medication.
When Mary Ann's new doctor recommended repeatedly that she seek treatment for substance use disorder in addition to depression, her response was, "No, ma'am. I don't need to do that."
"Well, I needed to do that," Mary Ann says now. She recounts a bout of substance-fueled aggression that landed her in jail overnight for fighting with her boyfriend. "I was a detention officer in one county, and I went to jail in the next county. So once I got out of jail the next day, I went and sat in front of that doctor and said 'Sign me up, because it's time for me to go.'"
When Mary Ann entered substance misuse treatment in a VA facility about 300 miles from home, she kept her focus trained on one goal: "I had to get my daughter back. So that pretty much was my mission, my vision, to keep me doing what I was supposed to do." She learned about coping skills and how to manage her depression without slipping back into unhealthy behaviors.
After completing treatment, Mary Ann knew that returning to her hometown would put her right back in the midst of her substance use triggers and temptations. So she gave up her home and stayed in the area where she had been treated. VA helped her with transitional housing and therapeutic work experience. Ultimately, Mary Ann became an employment specialist at VA, working to help other Veterans experiencing homelessness.
"If you can go to war, and you can be in combat, and you can take care of yourself there — when you come back here, you still have to take care of yourself," Mary Ann says. "Today is better compared to that day that I decided to say, 'OK, I need help.' Today is better because I cope better with things; I cope better with life. I feel like I'm a better parent than I was then because my whole 100% focus is on being a parent.
"If you feel like you need help, my recommendation is to seek help. … It's not that easy, but once you make that decision and make that first step, there's no looking back."
---