Finding Support From Fellow Veterans To Cope With Trauma
November 03, 2022 | 4-minute read
"Why did I sit there in the dark, drinking, being angry, when there was somebody there that could help me?" Patrick asks himself when he looks back on his life since retiring from the U.S. Army.
Over his nearly 28-year military career, Patrick served as a combat medic, a nurse and then a surgeon. In 2006, he was deployed to Afghanistan, where his base was bombed and shelled every night. He got very little sleep and felt the mental effects of being under frequent attack. However, as bad as that may have been, it couldn't compare to Patrick's last six months of active duty, when he served alongside a Special Forces team.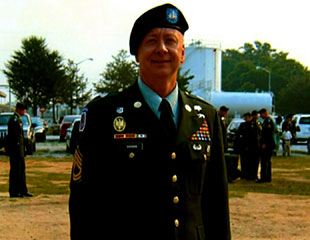 "The things that I saw — literally, the casualties and the deaths," Patrick says. Adrenaline and training kept him focused on the mission of saving lives, despite the moral injuries and trauma associated with what Patrick describes as "just the blood and the gore of everything — sticking your hands in people, trying to save their lives and hold them together." But afterward, when Patrick returned home, the memories became inescapable and his behavior became self-destructive.
"I sat in the dark, and I drank, and your brain has nothing else to do but remember it, and I was mad," he recalls. "I was mad at the government, mad at the Army, mad at the world — yelling and crying." Hearing a news story about a soldier being killed would send Patrick into a grim spiral.
And then he received the phone call every soldier's parent dreads: "I'm from the Department of the Army. I'm calling about your son." Patrick's son had survived a shot to the leg, and Patrick's extreme reaction to that call spurred him to find solutions to his mental health challenges. "I just realized that I just couldn't do it on my own."
At VA, he participated in Veterans group therapy. The group included Veterans from a variety of service eras, which helped everyone see different perspectives. The Vietnam Veterans and the Desert Era Veterans would talk about whose battle scars were worse, with each thinking military service was harder for the other, Patrick explains.
"It's good to have that support. People who have been through it. Everybody has their own experiences and their reactions. And so, it's good that the group was able to talk about different aspects of the trauma that they experienced, and how they cope with it," Patrick says. "It was worth it. I wish I would have done it sooner."
Since he started therapy, Patrick says he feels like a different person. He has fewer nightmares and flashbacks, less difficulty concentrating and a better handle on his temper. "My life has just gotten so much more livable. I'm so much happier than I was in that place — night and day."
"Go to the VA, talk to the mental health professionals, because they definitely will help you. You don't have to isolate yourself, because there are other people who are happy to help," Patrick advises other Veterans. "You've earned it. You served, so go and get your care. Make new friends and find a new life."
---