"He's My Best Friend Now"
June 10, 2019 | 4-minute read
Jasmine was stunned to get the phone call.
She and her dad, Ed, had lost touch. He faced challenges after leaving the Army, and when he turned to drugs, it took a toll on their relationship. Now here he was, on the phone, reaching back out.
"He called me out of the blue one day … and he pretty much just apologized," Jasmine says. "All I wanted was an apology. After the apology, we began to talk every day."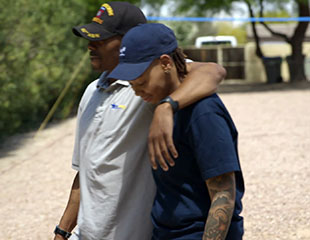 For Ed, this was the ninth step in his recovery program: making amends.
"My amends to my children is just a lifetime amends," he says. "I have to be there. I have to be there when they call, when they need me. … When they call me, I'm gonna show up."
"He does," Jasmine adds. "I need him a lot these days."
And since that phone call, the two have grown closer and closer. Jasmine moved out to Arizona to live with her father, and together, they form a support system — lifting each other up. She makes sure he takes his medications and goes to his doctor's appointments. And he keeps showing up.
"He's just more outgoing and friendly," Jasmine says, when asked about the differences she now sees in her father. "He's financially stable. And, I don't know, he's just a different person. He just brings so much positive energy in the whole room, and so I'm really proud of him — how far he's come."
It has been a journey.
Ed was a paratrooper in the U.S. Army. But when his older sister passed away, he says, "I just wasn't myself." He faced depression and substance use issues. He bounced into and out of relationships — including his relationship with Jasmine and her mother.
"Every weekend, me and my sister would be outside waiting on dad," Jasmine remembers. "Like, when is dad coming? Sometimes he came. Sometimes he didn't. And we pretty much just got used to it for a while. … I mean, we pretty much just looked up to our dad, even though he was barely there. We still looked forward to seeing him every weekend."
Eventually, though, the two lost touch. "I didn't want to talk to him anymore for a while because of the drug use," Jasmine says.
I can say, 'Forgive me,' but the only way I can earn that forgiveness … is not to let them down and be a part of their life today. Ed
Ed was homeless, living behind a convenience store, when a man approached and asked if he was a Veteran. He'd noticed Ed's cut-up BDU (Battle Dress Uniform) shorts.
The man took him to a transitional housing facility, where Ed got connected with mental health providers and substance use counselors. He eventually went back to school, rejoined the workforce, and called his children.
They've reacted with a similar message: Dad, just don't disappear. I forgive you.
"I like to tell people that we're not the only ones … suffering," Ed says, with his daughter sitting beside him. It took him some time to realize that his actions had an impact on those who loved him.
"So if you're going through any type of issues, realize that whatever you're doing, there are people that love you, and your actions affect them — whether they be kids, family members, and everything like that," he says. "They love you, and they want the best for you."
Withdrawing from that support system, he says, is a mistake. "Because I believe every human being wants that connection to a loved one, to a family, to a friend. And to be successful in society, we have to have those connections."
Recovery is a journey — and every step takes time. Ed remembers one time a family member got up to use the bathroom and then returned quickly to grab her purse. "You might be cleaning up," she told him, "but I remember what you used to do." Now they're in a good place; she'll call to check in on Ed, and he works for an organization to help other Veterans experiencing homelessness.
"I want everyone to know that, no matter what they're going through ... don't let those labels dictate who you are," Ed says. "Go out and seek professional help. I do it on a regular basis, and my life has become extraordinary."
For Jasmine, it's about taking things one day at a time. It's not always easy. It can definitely take work. But "if you just stay positive," she says, "then you can overcome anything. We've overcome a lot. He's my best friend now."
"I love you, baby girl," Ed says.
"I love you," she answers, with a laugh.
---