Hope Heals
March 10, 2022 | 3-minute read
Ray had a positive experience serving in the U.S. Army. In fact, during his three years as an infantryman, he enjoyed a brotherhood and camaraderie that he had never felt before. Ray's trouble started after he transitioned out of military service.
"I didn't know how to adapt to the civilian life. I felt lost in the world," he says. "The brotherhood that I was a part of — I was no longer around my battle buddies. I was no longer doing something around other people that thought the same way that I do, and I chose to drink as a way to deal with life."
Soon, Ray was consuming alcohol every day — then the alcohol started consuming him.
"I was a fully functional alcoholic for a better part of a decade," he says. "Once I became a one-man party is when I knew I was in trouble."
His drinking cost him his wife, their children, his home, and his job with the federal government. "Ultimately, I gave up on life," Ray recalls. "I ended up homeless on the streets, endangering the public, in and out of jail."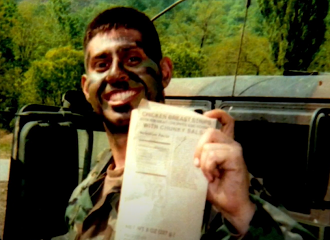 In jail, charged with aggravated assault on a police officer, Ray was given a life-changing opportunity. "I was introduced to Veterans court," he says. "They court order us to mental health treatment. They order us to get the help that we need."
Unsure what he would find at VA, Ray moved forward "one step at a time, one day at a time." He began opening up to a therapist about the issues he had faced since becoming a Veteran, and he was diagnosed with PTSD.
"VA gave me the tools that I needed to make positive changes," Ray says. "I learned a lot of different ways to cope with reality than having to self-medicate. Today I practice a lot of self-care. I do things that make me feel good in the heart.
"Instead of numbing the pain of reality, I do things that make my heart feel good."
Ray's treatment included compensated work therapy, which provided him with a transitional job at VA.
"You're working, whether you're working the food service, laundry, housekeeping. You're doing different duties throughout the hospital there just to kinda get you around other Veterans and people and trying to get you back to the world of working again," Ray explains. "And that's when I realized, 'Hey, I'm not the only one going through this, man.' The road to recovery is extremely hard, but it's very worthwhile. We all have to find our own paths."
Ray saw his fellow Veterans facing difficulties like his, but he also saw them overcome their setbacks. He found hope.
"Hope, that word, 'hope,' is a very, very powerful word," Ray says. "To be here where I'm at today, it's a very humbling experience and it brings peace to my heart," Ray says. "I've been down some very dark, lonely roads, and if I can inspire one person to make certain changes in his or her life, then I've done my part."
VA trained him to become a certified peer specialist, so he could pass along what he has learned to other Veterans.
"Life is so much different," Ray says. "I've grown so much more in my recovery — eight years of being sober and tobacco-free. Today I can be a positive role model towards my children. I get to just teach them how to live."
The Army Veteran has even found ways to re-create the kind of camaraderie he so appreciated while serving in the military. Ray started a nonprofit organization that helps Veterans "to be hopeful for a better future, to let go of all that guilt, all that pain." And he rides motorcycles with fellow Veteran bikers.
"When I'm riding in a group of other Veterans that have gone through the struggles — that have been through this storm — riding side by side, there's something very different about it. Something very special about it," Ray says. "We just get together, get out there and explore and really forget about everything and be in the moment. Focus on the road ahead of me. For me, it's the best therapy a man could ask for."
---