Seeing the Signs of Bipolar Disorder
February 23, 2021 | 6-minute read
There were times when Jessie just couldn't slow down.
"I'd be up. I'd be talking a mile a minute," the U.S. Navy Veteran remembers. "My brain was just constantly going. Then there would be days when I couldn't even get out of bed."
The extreme swings in energy levels and moods are common signs of bipolar disorder. So, too, were the nights on end during Jessie's time in the Navy when she wouldn't sleep at all. She was diagnosed after she left the service and sought help with VA.
"I'm not sure about everybody else," she says, "but when they diagnosed me with bipolar, I kind of was relieved: I'm not making this up in my head. Because that was a big fear of mine."
Bipolar disorder affects an estimated 45 million people around the world, according to the World Health Organization. The condition can cause drastic changes in a person's usual behaviors, moods, or energy levels. The high and low periods can last for hours, days, weeks, or even months.
"My bipolar is somewhat unique, in that I've had very few depressive situations," says Donald, a U.S. Coast Guard Veteran who has managed his symptoms after receiving medication through VA. "Mine has been on the mania side. And you get an alternate reality. You think that things are happening that aren't happening.
"It's a stress-related disorder. And any stress, especially severe stress, can trigger [it]."
The Signs
So, what does bipolar disorder feel like? The "up" swings, also known as "manic" episodes, can make a person feel extremely happy and energetic or on edge and irritable. Other symptoms may include: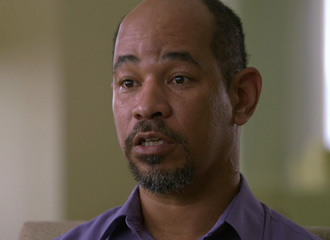 Thinking too fast (having a "racing mind")
Talking faster than usual
Finding it hard to stay focused
Appearing to be high, even without having taken drugs
Acting impulsively, which can mean spending lots of money, engaging in reckless sexual activity, gambling excessively, or being argumentative
Taking dangerous risks or getting into unsafe situations
The "down" swings can leave a person feeling depressed or hopeless, often losing interest in things they usually enjoy. People with bipolar disorder also report:
Finding it hard to make decisions or remember things
Having low energy
Having trouble thinking clearly
Being unable to break out of feeling sad
Feeling hopeless or having a negative attitude toward most things
During manic times, Craig, a U.S. Army Veteran, remembers "catching those racing thoughts and using them in a useful way" in his work as a labor organizer. But that didn't last.
"That hypermania episode turned into a roller coaster downturn into depression," he says. "And that depression felt like everything I touched turned to crap. That gave me a strong sense of worthlessness. It gave me a strong sense to feel that life was not worth living, and that nobody cared.
"And that's when I started getting mental help."
Seeking Support
If you or a loved one shows signs of bipolar disorder, VA can provide a diagnosis and several effective treatments to manage the symptoms. Many Veterans have been treated for bipolar disorder with great results through medication, counseling, or other support that VA provides.
Learn more about managing the symptoms of bipolar disorder.
Some people with bipolar disorder may have thoughts of harming themselves or wish they were dead. These thoughts are very serious and need immediate attention.
To reach the Veterans Crisis Line, Veterans and their loved ones can Dial 988 then Press 1, send a text message to the Veterans Crisis Line at 838255 or use the Veterans Crisis Line online chat. The Veterans Crisis Line offers free, confidential support 24 hours a day, 7 days a week, 365 days a year.
---