Turning Pain Into Prose
December 16, 2021 | 3-minute read
Sarge enjoyed his time in the Army until he was named combat infantry squad leader.
"Up until then, we would lose someone, it would be a terrible event. But once I was a squad leader, it seemed to be my fault," he says. "I felt I should've died in Vietnam." At the end of his third combat tour, Sarge knew something wasn't right. He started having frightening, sudden, and severe memory issues and problems sleeping.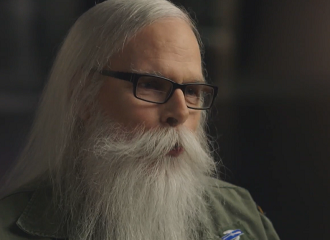 "I would not have any memory of what terrorized me, but I would wake up with a start, sit up drenched in sweat — trembling, frightened, like a big firefight had just happened. And, no, I don't know why," Sarge says. When he was awake, he says he had a "totally animal awareness level of hypervigilance" and behaved recklessly, getting into bar fights and seeking adrenaline highs.
"I couldn't hold a job for more than three months. I was experiencing a big problem keeping my mind out of the jungle," Sarge recalls. "It would be a Norman Rockwell scene: Leslie sitting beside me, the children playing on the floor, and it would be so beautiful and perfect, and then boom. I would explode in a terrible rage, and they're gone."
Sarge's mother took him to a VA hospital, where she told the staff, "This isn't even the guy we sent to Vietnam." Ultimately, Sarge learned that the survivor's guilt he felt was a symptom of PTSD. But worse than all of his combat experiences in Vietnam, he says, was not feeling accepted by people when he returned home.
Over the course of his recovery, the former squad leader started putting his pain on paper.
"I found that writing things down that I couldn't really talk about made it easier on me," Sarge explains. He kept writing and writing — expanding the scope to include more topics — until he had filled a book with thoughts like these:
Sometimes he's a monster and out of control.
She knows it's really not him.
It's a part of his mind that can never come home
From the jungle he carries within.
"I was kind of shocked to find out that it all came out rhyming for some reason, and I guess that's when I was starting to be a poet." Sarge learned to turn his poems into blues songs, and his words and music helped other combat Veterans. Sarge says that gave him a new sense of purpose, which "makes me feel like not a feeble, old 75-year-old man."
"Being able to grab an audience's attention and hold it — that's a heck of a wonderful feeling," he says.
Sarge attributes much of his recovery to the support of Leslie, his wife of more than 50 years, and to the care he received at VA. He speaks about his experiences and his recovery at schools around Arizona and in gatherings of Vietnam Veterans.
Sarge went from feeling unaccepted by his community to sharing his words with Veterans who understand and appreciate them. That, he says, is "the most beautiful medicine that I ever got for PTSD."
---