A Chance at Redemption
July 21, 2021 | 6-minute read
Leaving the structure of the military and reentering civilian life can be difficult. For some Veterans, that transition may lead to destructive behavior, which may involve breaking the law. For Veterans with mental health or substance use disorders who become involved with the justice system, the Veterans Treatment Court (VTC) system can offer them a chance to find the treatment they need to get back on track.
Frank, who served in the U.S. Marine Corps and the Army National Guard Reserve, faced challenges when he left the military. "I was not prepared for what life had in store for me. The loss of sleep, having flashbacks of what has happened to me in my past, loud noises — certain things bother me," he says. "Certain smells reminded me of some of the stuff that I had seen."
Frank felt like an outsider and became reclusive. He used alcohol and then drugs to numb the pain, and even getting a DWI didn't stop him from using. "That started a snowball effect," he recalls. "I think I got arrested every week for five weeks."
Frank's partner pleaded with him to get help, so he went to a VA rehab center and remained sober for seven months. But when Frank's father died, he says, "It felt like a good idea to numb myself again and I received my second DWI arrest. This time I was in Veterans Treatment Court."
The program helped Frank hold a job and enroll in outpatient treatment. He was also assigned a mentor, a fellow Marine Corps Veteran. "Just having someone that understood everything that I felt made it much easier for me to accept help from people," Frank explains. "From the time that I went in there to the time that I graduated, my life changed substantially." He has reconnected with his family and become a Veterans Treatment Court mentor for other Veterans having experiences like his own.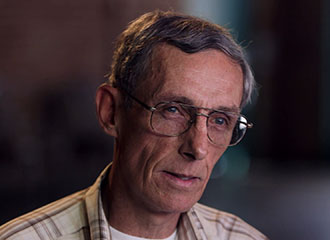 Ray, a U.S. Army Veteran, looks back at his time in the military as a great experience, remembering the brotherhood he felt with his fellow infantrymen — his "battle buddies." After leaving the service, the loss of camaraderie hit him hard.
"I didn't know how to adapt to the civilian life. I felt lost in the world," Ray says. He used alcohol to numb his feelings of loss and loneliness. "I was no longer doing something around other people that thought the same way that I do, and I chose the drink as a way to deal with life."
For nearly 10 years, Ray misused alcohol — until his life began to fall apart. "I went through a divorce. I lost my children. I lost my home to foreclosure. I gave up my career with the federal government. I gave up on life."
Ray was feeling more hopeless than ever before. He ended up homeless and became involved with the justice system for various felonies. Finally, after hitting the rock bottom of this downward spiral and serving time in jail, Ray was introduced to the Veterans Treatment Court. "They order us to get the help that we need," he says. "They said I needed the help; let me go see what kind of help I need. And so I did it."
Ray began meeting with a mental health counselor who referred him to the Compensated Work Therapy program at VA, where he worked at various jobs in the medical facility. This allowed him to slowly get back into the mindset of holding a job while also attending group therapy sessions with fellow Veterans.
"We could definitely relate to one another," Ray says. "We'd just sit there, we'd talk about what's going on with our lives, and try to help each other — try to motivate each other to make positive life changes."
Through treatment, Ray was able to set healthy boundaries and continues to practice self-care in his daily life. "Instead of numbing the pain of reality, I do things that make my heart feel good."
After Ray's work with the Veterans Treatment Court and the Compensated Work Therapy programs, VA sent him to school to become a Certified Peer Support Specialist. "Now I get to help others — others that are going through some of the struggles that I've been through," he says. "I've been down some very dark, lonely roads, and if I can inspire one person to make certain changes in his or her life, then I've done my part."
For Monty, a U.S. Navy Veteran, drinking became more prevalent in his life after he left the military. "I drank even more heavily, trying to adjust to civilian life." He tried to stop — and did for over a year. "But eventually I ended up drinking again," he says, "and then finally getting a felony DUI where I entered Veterans Court. It was a life-changer for me."
The Veterans Treatment Court assigned Monty a counselor to help him complete a 12-step fellowship and get him more involved in group sessions at VA. "The counselor is there to teach you and have you look at the world a different way," he explains.
After his counseling sessions, Monty stayed connected with the counselors and fellow Veterans he met at VA. He's remained sober and encourages his fellow Veterans to reach out for support. "To a Veteran that's suffering: Make the connection. Get help."
To learn more about support available for Veterans in the justice system, contact the Veterans Justice Outreach Specialist at your local VA facility.
---