A Vietnam Veteran's Journey: Retirement, Depression, Therapy and a New Life
December 08, 2022 | 3-minute read
Michael was 18 years old when he left the life he knew and was sent to Vietnam, where he began a 10-year career in the U.S. Navy assigned to the Marines.
"You go into that situation, you're lifted out of what's high school and college — where you should be — and you're put over here," Michael says. "You miss all of this growing up that you used to do in between. My mother, when I came back, she said, 'You're not the same person we knew.'"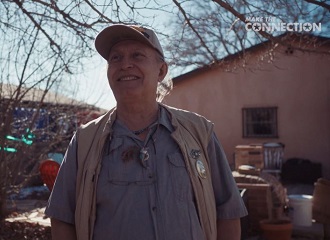 Michael took on the task of fitting back into the world he left. But after a decade away, he wasn't the same man, and it wasn't the same place — and he wasn't always welcomed back. Michael faced a difficult, politically charged environment when he left the military in the 1970s. Across the nation, many who served in the military bore the brunt of hostility from people opposed to U.S. participation in the Vietnam War.
"I didn't want to be where I was — ran into those people who looked down on us," Michael says. He withdrew, which he says ruined his relationships, and the combination of events and emotions led to depression.
When Michael went to VA for support, his provider said he wanted to see Michael for therapy every day for the first few weeks. The Veteran made the trip faithfully. He thought, "I got a lot more living to do. Maybe I should be more careful with what I've got so I don't throw it away."
Michael has never liked being in groups of people, but he came to see the benefit of group therapy (although he still prefers "just talking it out with my therapist" one-on-one). His therapy also includes writing poetry because, he says, "It puts something on paper that was more than just a thought; it was a real thing that I had to write."
Michael says therapy at VA helped him "to know myself better than I had ever in the past, and I've also learned how to look out for this in other people too. For me, that's therapeutic." As a result, Michael has created the life he wants. "I've gone back to school. I've got a double major and a double minor. I'm taking everything that I want to be," he says. "We've got a wildlife habitat. I got my chickens; I got my bees; I got the animals feeding in the yard."
Michael says that as a Pueblo Indian, he has "a whole different way of learning cultural beliefs, myths and viewing the world. We forget the connection we're supposed to have with each other and with the Earth. Maybe I'm old fashioned, but I think there's a balance that should be held. It opens up something deeper inside a person that you don't realize is there."
"Now I can see what I'm living with," Michael says. "That enables me to balance it out because it's not a scary unknown anymore."
---