After a Wake-Up Call, a Navy Veteran Faces His PTSD
February 08, 2023 | 3-minute read
Joey's grandfather was a radio operator on a B-24 in World War II. He came home with severe posttraumatic stress disorder (PTSD) and abused Joey's father. Two generations later, Joey also came home with symptoms of PTSD after more than a dozen years of U.S. Navy service.
"I was very irritable," Joey says. "I didn't like people. I didn't like people being around me."
Even though Joey had never been physically abusive, his 3-year-old son covered himself, afraid of Joey, when Joey went to put the toddler to bed. But that's when Joey's story diverged from his grandfather's.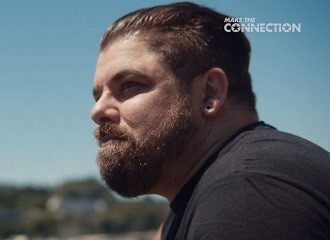 "That kind of was a wake-up call," Joey says. "I didn't want to ignore it to the point where I ended up being like my grandfather. I didn't want to repeat that cycle, so I sought therapy the next day, actually."
Joey had joined the Navy on a whim to make his parents proud. His service included deployment to Afghanistan, but his trauma began with several forced extensions that kept him serving at Guantanamo Bay Naval Base in Cuba for almost two years.
"It just challenged my humanity in a real big way," he says.
Joey considers himself fortunate to have found two VA providers — a psychiatrist and a psychologist — who really understood him. The psychologist was a Navy officer, which Joey appreciated. "He was very down-to-earth — let me speak like a normal human."
In addition to weekly talk therapy with his psychologist, Joey met his psychiatrist once a month to talk about his medication — and sometimes to vent.
"I think it's important to have that because we often believe that once things feel OK, we've got it under control. But it's nice to have those check-ins because it's a third-party perspective."
With professional support, Joey has learned to identify his symptoms quickly and manage them before they overtake him.
"It used to be that I would just kind of zone out," Joey says. "I'd just fall into a weird trance. Now it's more like I know the feeling when they're coming and I know what does it, and I try to breathe through it and think of a different way to handle it."
Joey considers his mental health journey to be part of a positive legacy for his children.
"We're the superheroes to our kids, regardless of if we want to believe it or not," he explains. "So if they see you accepting help, then they'll see that example and they'll follow it — and they'll be able to maybe reach out to you as a dad or to somebody else to get help before something bad happens."
He has similar feelings about opening up to fellow Veterans.
"I think it's important to share your stories so that others don't feel alone, and maybe it empowers them to engage in what they're feeling and what they're going through. And if it reaches one person that feels the same way that I feel and they seek help, then it's all worth it."
---