Care for Women Veterans Helps Reservist After Injury, PTSD and More
November 16, 2022 | 3-minute read
A defective dummy grenade that blew up during basic training rattled Brenda's head, caused external injuries and punctured her eardrum. This experience was only the first domino to fall in a chain reaction of mental health concerns and life challenges that followed the Veteran Army Reserve telecommunications specialist for years.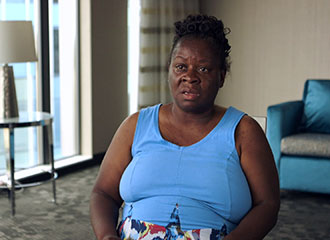 First came the nightmares and a diagnosis of posttraumatic stress disorder caused by the faulty grenade. Brenda says she had panic attacks. She couldn't relax and had difficulty concentrating. When she started hearing imaginary voices, she went to VA for psychiatric help and was diagnosed with . "So, I had a whole lot of issues going on," Brenda says. Those challenges, along with anxiety and insomnia, led Brenda to experience work-related problems at the post office.
"I was working 60 hours a week, and I just couldn't do it anymore," she says. "Dealing with people, I would get all stressed out."
One day, Brenda went to a casino with a neighbor. Eventually, what started as a diversion developed into a full-blown gambling problem.
"I would go down there every day, and I would spend all my money, and I would still have people helping me out," Brenda says. "The gambling felt like a drug. It felt like I got high every time I went in that casino. People would treat you nice. And they had music; you could drink. But I got into debt with the gambling."
She went to VA and entered a kind of gambling detox program for a week — "trying to get those cravings out of me," she says. Brenda also joined Gamblers Anonymous, where she connected with others facing the same temptations. But it wasn't until she visited a women's health clinic at her local VA that she really found the kind of support she needed.
"They understand women's issues and problems, where — you get with the guys, you don't feel as special," Brenda says. "But that women's health really makes you feel good."
Socializing with friends also helps, she adds, "but nothing helps me out better than the VA. Because you have people that understand what you're going through. There are sincere people there to help you, and they really do a good job."
---