From Ship to Shelter
October 20, 2020 | 3-minute read
A combination of bad luck, loss, and trauma put Lidia on a path to joblessness and homelessness almost immediately after she left the U.S. Navy. But it was only when she got into a fight in the notorious Skid Row neighborhood of Los Angeles that Lidia realized she needed help.
Lidia had enlisted in the Navy immediately after graduating high school. She was serving when the USS Cole was hit by a suicide bomber off the coast of Yemen in October 2000, injuring 39 sailors and killing 17. One of them was a very close friend.
Lidia and her crewmates helped pick up debris from the bombing. "The things that we were picking up out of the water were human bodies," she says. The crew never talked about the situation — acknowledging what they were doing would have made it too difficult to continue.
Later, even the sight of the USS Cole was hard, like seeing a tough, celebrated soldier fall.
"To see one of the most powerful ships … not in the water, but being dragged back to the United States like it was injured, you know? That was very traumatic," Lidia says.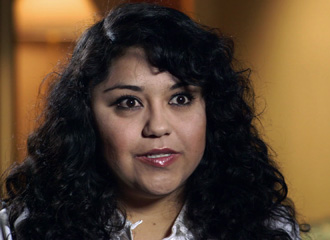 That event was followed less than a year later by 9/11. Lidia says she watched on television with her crewmates as the planes hit the World Trade Center. Then all communication was cut off — totally and suddenly. "To me, experiencing that was like having a heart attack," she recalls.
After retiring from the service, Lidia graduated from college and headed to California, where she had lined up a job and a place to live. But when her would-be boss was fired, she no longer had a job — and her landlord rented out the apartment where Lidia had planned to live.
Without a job or a home, Lidia went from sleeping in a queen-sized bed and looking forward to her new life ahead to lying on a cot in a shelter and experiencing depression for the first time.
"I really thought me going to school — I wouldn't face homelessness," Lidia says. At first, she maintained the attitude of a determined Veteran, thinking, "I am victorious; I am an overcomer; I can overcome this. … I can do anything." After all, she had graduated, landed a great job, and moved to a new state.
But Lidia just couldn't seem to find her way out of homelessness. She says she grew increasingly depressed and disgusted with herself. Getting into a fight "was the straw that broke the camel's back."
"That was the day I had said, 'You know what? I am an educated, beautiful, single, strong woman. What … am I fighting for?'" Lidia answered her own question: "I am fighting for a better job; I am fighting for a better environment to live in."
The fight spurred Lidia to get help at VA, where a psychiatrist helped her realize she wasn't what she calls a "macho mouse." The VA programs that are specifically designed to help women handle trauma resonated with her, and she urges her fellow Veterans to find the VA resources that will work best for them.
The VA is made up of a lot of "Veterans just like us that want to help, but they don't know – you have to come to them first," Lidia says. "The quicker you get there, the better off you're going to be."
Resources
Homelessness is a complex and difficult challenge to overcome, but you don't have to go it alone. There's a whole community of support ready to help with whatever you're going through. Veterans who are homeless or at risk of homelessness, as well as their family members and friends, can access a variety of resources and benefits through VA.
---