Grace Is a Gift for Yourself
April 22, 2021 | 3-minute read
Whether you call it showing mercy, extending grace, or letting go of hard feelings, practicing forgiveness, of yourself and others, can be a powerful form of self-care. It may seem like a daunting task, but it's one step you can take to improve your mental well-being — during Mental Health Month or at any time of year.
It took Robert more than 30 years to realize the importance of forgiving the fellow sailors who sexually assaulted him aboard the U.S. Navy tank landing ship where they served. The trauma upended the next three decades of Robert's life. How could he forgive those men? And what would be the point? The men wouldn't even know.
But Robert would. And Robert is the one who needed it the most.
The assault occurred in the early 1970s and sent Robert into an emotional tailspin of depression, nightmares, substance misuse, isolation, and distracting himself with constant work. Year after year for decades, Robert's daily routine looked like this: "I would run to work, be very successful on the job, and at night I would get up after the nightmares and go find me some drugs or liquor. I would self-medicate to try to hide and keep the façade up."
Robert bought his first house at the age of 27, but it was the first of many homes he lost to foreclosure.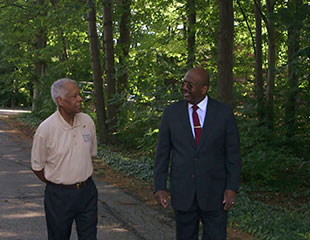 "I would fall, get up, get another home, go to work, but I was still hiding the trauma and those demons, and I did it for basically all of my life," he says. His hamster-wheel existence lasted until he was 57 years old. That's when he started seeing counselors at VA and slowly learning to trust others again.
"I always say they gave me a toolbox," Robert says. "They have a toolbox of life for us."
But, Robert's was also a spiritual journey, so he sought additional guidance from his pastor. "I'm a strong man of faith," he says. "Being with my pastor and my church, I didn't know that I was wounded, but they showed me that I was wounded. And they showed me how to start practicing the power of forgiveness."
Most everyone experiences anger, resentment, regret, or guilt at one time or another. Hanging onto those emotions can result in bitterness, depression, isolation, or relationship problems. By embracing forgiveness, you can let those feelings go and open yourself up to other, more pleasant emotions — like peace of mind, hope, and joy.
Practicing forgiveness doesn't necessarily mean making up with the person who slighted or hurt you, and it definitely doesn't mean you have to forget or excuse their behavior. It does mean making a commitment to change your thought processes, which isn't easy but may ultimately allow you to regain power over the hurt. It means letting go of grudges and releasing the emotions that go with them. You may start to look at your life in more positive terms — rather than defining it by your wounds and traumas.
If you are having trouble forgiving yourself for something you regret, talking to your family members and friends may be a good first step. Not only may your feelings worsen if you keep them to yourself, but your loved ones may be able to offer new perspectives on the situation that you haven't considered. They may also be able to provide you with emotional support and help you find the best services to help you work through your feelings.
"Very few people take advantage of the many resources that are around them," says Robert's pastor, Charles. "We think that somehow we can internalize the trauma and the pain that we have experienced, and think that there won't be any ill effect. But the fact of the matter is we have to work through it."
Robert's journey led him to dive into volunteering and serving his community, which he says "took the spotlight off of me." His nightmares have become less intense, and his self-image has completely changed.
"I'm a proud U.S. Navy, disabled, PTSD, military sexual trauma survivor. I'm not a victim anymore."
---