Helping One Can Help Many
January 27, 2022 | 2-minute read
The son of a longtime Marine, Kyle had always considered following in his father's bootsteps. When it was time for Kyle to choose a career path after high school, terrorists attacked on 9/11, and he immediately joined the U.S. Marine Corps. Within months, he was deployed to Okinawa, Japan, and then to Fallujah, Iraq.
"'The last insurgent hotbed' is basically how they described it," Kyle says. He recalls the ominous feeling of being told he was going to the one city where "all of the bad guys" were concentrated.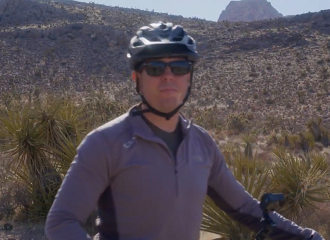 Kyle witnessed many casualties during his four years of service as a field radio operator and had a rough transition back into civilian life.
"It affected me quite a bit. When I first came back, I was drinking pretty heavy. I was just generally more irritable, having more outbursts," he says. What's more, Kyle couldn't find a good job. The stress and disappointments piled up alongside the troubling memories he'd brought home. Within three years of transitioning out of the military, Kyle was arrested twice for violent behavior and was also placed in mental health facilities.
Veterans of conflicts in Vietnam and Korea mentored Kyle and encouraged his healing and recovery. Kyle believes he would have resisted treatment had it not been for the men telling him over and over that what VA offered could be "a blessing" to him.
Kyle was diagnosed with PTSD and treated with cognitive behavioral therapy at VA. He has since earned a master's degree in criminology and is working toward a doctorate in sociology. And he now has a son, whom he credits with giving his life meaning.
Kyle used a VA loan to buy a house. He rents some of the rooms to other Veterans who are getting back on track, paying forward the kind of Veteran-to-Veteran support that helped Kyle turn his life around.
"Just the opportunity to be able to open the door and walk outside and look at the sun — that ability is something not to be taken for granted. I did really get lucky," Kyle says. "Let people reach out and grab you and pull you up. Seek help before it gets too far."
---