Inspiring Stories From Coast Guard Veterans
August 19, 2021 | 5-minute read
This month, we celebrate Coast Guard Day to commemorate the founding of this U.S. military branch and to honor those who have served in it. Discover the inspiring stories of four Coast Guard Veterans who found support to overcome their challenges both during and after service.
Ernest, a U.S. Coast Guard and Navy Veteran, remembers feeling mentally drained when he transitioned to civilian life. He slowly began to isolate himself from others in his life.
"I was tired. I became moody. I became very sheltered," Ernest says. "I didn't want to be around a lot of people." He was reliving his experiences from the war in nightmares, which led to night sweats and trouble sleeping –– but he kept it all to himself. "I never wanted to let anybody know I needed any help."
After hearing similar stories from fellow Veterans, Ernest was encouraged to reach out to VA for help. He started seeing a psychologist and was diagnosed with PTSD, along with depression and anxiety. "To get the diagnosis back and to finally pinpoint a particular aspect of posttraumatic stress disorder was great," he says.
Ernest continued therapy and began taking medication for his depression, which helped him sleep better and become more comfortable with his experiences. He now shares his story with other Veterans to encourage them to seek support.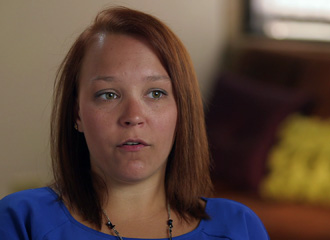 "If you're feeling uncomfortable at home, I suggest you talk to another Veteran about it. Please go to the VA and talk to somebody."
Krysten came from a military family: a dad who served in the Navy, a brother in the Army, and a sister in the Air Force. When it came time for her to enlist, she chose a new branch for the family — the Coast Guard.
Krysten was stationed in Puerto Rico, when one night a fellow Coast Guard member sexually assaulted her. She reported the incident, and her friends stood by her throughout the process. But after the assault, she became much more reclusive.
When she left the service and returned to school, Krysten eventually took advantage of counseling resources on campus with the encouragement of her roommate — and she saw the benefits from her weekly sessions. "Afterwards, it was like I had my personality back. I was me again," she says. "It was like a weight off my shoulders."
Krysten tells fellow Veterans, "Don't be afraid. Just go for it, because being scared isn't going to get you anywhere. You gotta go for it."
Don is a Coast Guard Veteran and has bipolar disorder. For most of his life, he experienced manic episodes that affected his health and relationships with those around him. "It's a stress-related disorder," he says, explaining that stress -- especially severe stress -- can bring on an episode.
One manic episode resulted in a confrontation with police and jail time. Upon his release, Don found support from VA doctors, who introduced him to the resources available to help manage his condition. Medicine has helped him avoid a manic episode for more than 18 years, and counseling helped him to regain control.
"[VA will] do everything that they can so you will understand what your illness is all about and what you need to do so you can resume a normal life," Don says.
Lucinda was serving in the Coast Guard when her 3-month-old son died of SIDS. Soon after that, she transitioned to civilian life and began working as a jailer. During this time she began drinking heavily, and when she woke up inside a jail cell, she lost her job. "So, I sought help through the VA," she says.
Although Lucinda was diagnosed with PTSD, she didn't believe it. "I mean, I knew something was wrong with me, but I adamantly denied that I had PTSD." She ignored the diagnosis for years, but when her granddaughter was born, she decided to commit to her health and returned to VA for help.
"I can't say enough for the treatment that they've offered — inpatient as well as the outpatient programs that I'm still in and will continue to be in until I feel comfortable leaving." Lucinda tells any Veteran facing mental health or substance use challenges to take the first step and ask for support. "I guess some people might think that they're stronger than needing help, but it takes a strong person to ask for help," she says. "So get the help."
---