Iraq War Veteran With PTSD Finds His Own Path to Peace
September 27, 2023 | 3-minute read
When Duane reentered civilian life in 2012, he says, he felt "alone in a crowd." He had just completed 10 years of service in the U.S. Army and had not yet dealt with the emotional scars of his Iraq War service, which included three tours in and around Baghdad.
"I had to be at the edge of death," he says. "There's nothing that can prepare you for that."
Just weeks after he completed basic training, Duane began his first tour, serving as a cannon crew member and then a cavalry scout.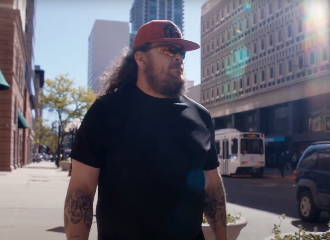 "There were 15 of us from my basic training battery," he recounts. "When I retired, only three of us were left."
"It takes a toll on you," he says. "And then that darkness will consume you."
The journey to emerge from that darkness included outside support, self-realization, a return to school — and a spur-of-the-moment decision to take up sewing, which led him to fashion design. But the journey didn't start immediately.
As he struggled in his transition from service in 2012 and beyond, Duane turned to alcohol misuse. "I was drinking myself to death," he recalls. Then he crushed his foot in a motorcycle accident.
He marks the accident as a turning point. "I woke up and went, 'Wait a minute. I need to start to do something positive with myself.'"
But not by himself. "It takes strength to know you can't do it on your own," Duane says. "We're so focused on being individuals, we forget that we're better as a team. That's what mental health treatment is. It's about finding a team that works for you."
Duane, diagnosed with posttraumatic stress disorder (PTSD), had already begun VA counseling before the accident. Although the counseling didn't give him all the answers he needed, Duane credits it for changing his mindset and putting him on the right path.
Over time, Duane learned how to understand his trauma and its impact and how to talk about it with his wife, mother, and children. He also enrolled in college.
"That really opened my eyes to this notion that I didn't have to be what I thought I was," he says.
While in college, on a whim, he decided to teach himself to sew. Soon, sewing and designing clothes became a cherished pursuit.
"Putting together the fabric and then watching it come to life, really, I fell in love with it," Duane says. By the end of 2018, his work was being featured on runways during New York Fashion Week. More fashion industry successes followed. For Duane, finding his passion helped him find his peace.
"The ability to change and the ability to get better is within each of us," Duane says. "The VA, for me, provided that framework. Fundamentally, it gave me a foundation to say, 'Hey, you can go and find your peace. It's out there.' Now, looking back, it definitely allowed me to not feel alone in that crowd."
---