Jersey Jeanne Was Down — Not Out
February 03, 2022 | 2-minute read
Jeanne's life was turned upside down when a life-altering back injury ended her 12-year career in the U.S. Air Force.
"I'm in a wheelchair because I'm a T-12 paraplegic, incomplete. I still have some left leg movement," explains Jeanne, who often goes by "Jersey Jeanne" in honor of her home state. The injury to her back seemed to have a domino effect on other aspects of her physical health as well as her mental well-being.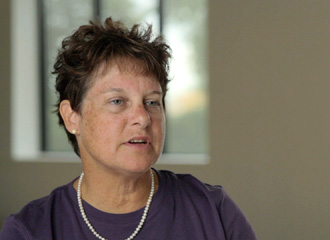 "I had nightmares. I would see things and think men were coming at me, and things would bother me. I'd go off — anger, anger management was horrible," Jeanne says. "I would get depressed pretty often and then come to find out down the road it's the 'chicken or the egg' thing. They kept saying it was in my head: 'Go see the shrink.'"
Jeanne sought answers and assistance at VA, where her care team ultimately realized she had multiple sclerosis, a disease that interrupts communication between the brain and the rest of the body. The underlying condition had contributed to Jeanne's breaking her back.
"It literally was in my head," she says. "I had lesions up there."
The diagnosis led Jeanne down a dark, five-year path of agoraphobia and hopelessness. "It was horrible. I didn't want to go out of the house."
Jeanne's back problems worsened over time, and the lifelong sports enthusiast found she needed to use a wheelchair more and more. When it became clear that she needed physical therapy, Jeanne went to a VA facility. It wasn't easy and it took time, but the physical activity, combined with behavior modification counseling, led Jeanne to a much healthier place.
"I'm very privileged … to have earned the VA health care," she says. "Every time I see a woman Vet, I say, 'These are the services that are available to you, and they are getting better. There is hope out there and help — you just have to ask for it."
---