Lost and Found
April 21, 2022 | 3-minute read
David felt the same patriotic call that led many people to enlist in the military after 9/11. He had just graduated from high school when he began serving in the U.S. Army. Today he says, military service "definitely takes an emotional toll on you. And a lot of times you're too young or stubborn to realize that's what's happening."
David didn't realize the havoc that serving in the Army during wartime was wreaking on him, and he didn't know what he was going to do after military service, but he did know when he was ready to transition out of the Army. He returned to Arizona to live with his brother, who was two years older than David and his best friend. "When I wasn't at work, I was usually with him," David says.
Among other things, the brothers enjoyed riding motorcycles together. But one day, David decided he didn't feel like joining his brother for a ride. "I think I was hungover. I didn't want to go," David recalls. So his brother "left by himself, and he never came back. He got in a motorcycle accident and fell into a coma and then passed away the next day."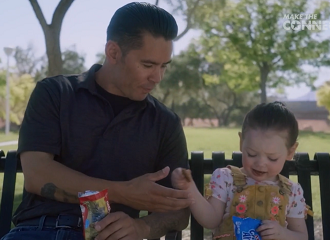 Even if David largely ignored the emotional toll of his military service, he could not ignore the loss of his older brother a short time after returning home. He was aimless and alone when he took a self-destructive path.
"I knew I was in no condition to go back to work," David says. "I knew that the drugs and the alcohol had taken a toll on me. I knew I did not look good. And if I would have even attempted to go back to work, people would have saw me and thought, 'What's going on?'"
David gave up. He started smoking heroin and, he says, "turned into a person I didn't even know anymore."
"I was broke. I was homeless. And I had no way to fuel my habit, other than to commit crimes." David was asleep in his car in Las Vegas at about 5 a.m. when a police officer rapped on his window and arrested him.
"When I was in jail, I started taking some substance abuse classes just to try to learn more about it, because I really wanted to stay clean," David explains. In addition, his attorney, a fellow Veteran, was able to move David's case to Veterans' treatment court. "Upon successful completion of Veterans' treatment court, the state would dismiss all the charges against me. I started off with the intensive outpatient program, which was three times a week," David says.
David remains in group therapy with other Veterans through VA. He has attended Alcoholics Anonymous and Narcotics Anonymous meetings and remains in a substance use disorder treatment program and an aftercare group.
"I like going to the VA just because the relative experience, I think, plays a major factor in building a support system," David says. "In order to ask someone for help or seek treatment, you have to let go of your ego and that same self-esteem that you've had since your accomplishments in the military. You have to submit to the fact that you have an addiction. The VA's there to help you 100%. All you have to do is call the VA and ask for help, and they will find a way to help you."
---