Turning Grief Into Giving Back
August 05, 2021 | 3-minute read
When Lauri started working directly with Veterans, her life experience earned their trust right away. "They came in, and they saw me, and I could get where they were coming from," she explains.
But how she got there is more complicated.
A few years ago, Lauri left her job with the Department of the Army to enter the private sector, and her husband retired from the Army after 20 years of active duty service. Around the same time, their son returned from a 14-month duty tour in Iraq and was stationed at Schofield barracks in Hawaii.
Lauri recalls that on July Fourth, "there was a knock on the door at 6 o'clock, and there were two Soldiers in uniform informing us that our son had been killed." He had been back on American soil for just three months.
Lauri and her husband turned to their county Veterans Service Officer for help through difficult tasks like bringing their son home. When they made the trip to retrieve their son's body, Lauri immediately met with her son's friends and learned about the challenges they had experienced together. They talked about how hard it was to survive their service in Iraq only to lose their friend nearly as soon as they got back.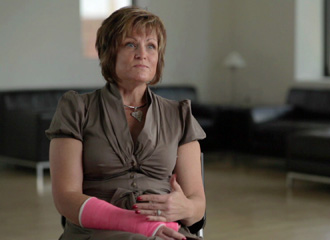 At that moment, Lauri made a life-changing decision.
"I was going to quit my job and work with Soldiers again," she says. "And that is how I became a county Veterans Service Officer." Her reasoning was simple: "It was cathartic for me to actually work again with the same people that I had such a heart for."
As a U.S. Army Veteran, a military spouse, and the mother of a fallen Soldier, Lauri has experienced military life in a way that few others have. And now, as a Veterans Service Officer, Lauri says she has "the best job in the world" because she gets to work with heroes every day. "Whether it be the Soldier, the Veteran, or their family, I think that they are all heroes."
"We can't make anybody who they were even yesterday, so we just need to make sure that we honor everything that they have gone through," Lauri says. "There are memories and there's trauma that you go through, but we need to honor that and get them to move forward."
Lauri's background gives her a way to connect with Veterans and the families who need help just as she once did. "Coming in to see me is not like going in to see just another Veteran," she explains. "I have had the folded flag handed to me, and it establishes a lot of rapport with families knowing that — whether it's a World War II Veteran that is worried about his spouse when he passes away or an OIF/OEF Vet whose mom is worried about them and wants to talk to somebody. I can be that person, because I am that same person that they all see."
Lauri says many Veterans seeking help for a mental health concern and family members grieving for a lost Soldier start their first meeting with the same concern: "It will never work. I can't get help." But after they start to process their experiences in a healthier way, they learn that "they are not the first person that's ever sat there and said, 'I don't know what to do.'"
"Well then," Lauri says, "let's figure it out together. You are not alone."
---