Veteran Finds Fulfilling Life After Cancer Diagnosis
July 12, 2023 | 4-minute read
"When I was first diagnosed with cancer, I can literally say I just felt like there's a shadow," Matthew says. The diagnosis came when he was 19 years old. Matthew had just completed boot camp and the additional training he needed to serve as a cyber (or data) network operator in the Marines. He was slated to deploy from Okinawa, Japan, after a routine medical screening.
Instead, that screening led to a diagnosis of testicular cancer and a yearslong odyssey of surgeries and treatments to get a handle on the disease. His first operation occurred the day after he was diagnosed. Soon after, ultrasounds revealed tumors in his stomach and elsewhere.
Matthew went from being in the best physical shape of his life after boot camp, knowing all his body was capable of doing, to feeling like his body had betrayed him. He was medically retired after four years of service.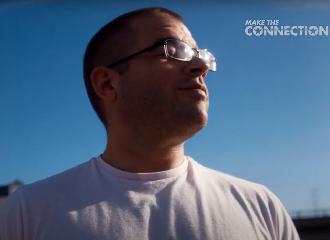 "There's a lot of pride that comes along with being a Marine," Matthew says. "I earned that title. It's one of the greatest fighting forces on the planet." When serving in the Marine Corps was no longer an option, Matthew sank into depression. The cancer treatments had caused him to lose his hair and gain weight. Matthew stopped taking care of himself and looked for excitement in using drugs.
"I could go and get a quick high, and that practice just led me down the path to homelessness" — which Matthew says was inevitable, given how he was living and the company he kept. He built emotional walls to keep his family out. After one particularly dark period, Matthew ended up in a VA facility on a 72-hour hold for his mental health.
"After leaving, I kind of realized the opportunity to get better was there, I just had to take it," Matthew says. Through VA, he found a local shelter for homeless Veterans.
"I was put up there for a little while and I utilized all the resources available," Matthew says. Still dealing with the long-term pain left from his cancer treatments, Matthew found relief through acupuncture, massage therapy and chiropractic care. He found different kinds of pain relief in talk therapy and in volunteering at his local VA facility.
"The struggle varies so much from person to person, but that helped to just know that I wasn't completely alone," Matthew says. "What it meant for me to sit and talk to other Veterans, I feel like they support me. … I tell them what I'm doing in life, and they get just as excited for me. They're brothers, they're family."
Matthew says adopting a new perspective helped shift the direction of his life. "As soon as I decided that I wasn't going to feel bad about seeking therapy or treatment and I was going to use everything offered, I started to improve."
Matthew's efforts have paid off. "Since I've been receiving treatment and actively engaged in it, the interactions that I have with people are getting better. The opportunities that are coming are getting better. I feel like I'm actually capable of rising to the occasion more than I ever had before in life."
Once in extreme pain and using drugs for excitement, Matthew now enjoys the rigorous sport of fencing. "I appreciate how much it demands, gets me fired on every cylinder. I feel like I've grown a lot just as a person being involved in the sport and the community."
Matthew says finding care, building friendships and forging connections in his community have helped him restore something that injuries, illness and isolation had taken away: "My own sense of humanity. That was something that I needed."
---