A New Year. A New Start.
January 12, 2021 | 5-minute read
The new year marks a time when many people think about fresh goals and healthy changes they can make to improve their lives — from finding a new career path to beginning mental health treatment. Whether you are still transitioning from the military or you served decades ago, you can join the many Veterans who have found help to define their purpose and achieve their goals through therapy and support systems at VA.
"I think the struggle was finding my purpose and trying to figure out what exactly I wanted to do," says Jodie, a U.S. Marine Corps Veteran who waited tables and tended bar at home in Connecticut after serving two tours in Iraq. "I couldn't spend the rest of my time being in a small town after all the things that I had seen and done and accomplished in the Marine Corps."
Jodie's transition left her feeling a lack of direction, which sparked relationship problems with her husband and, ultimately, their divorce. She decided to rejoin the Marines and was deployed again. After a yearlong tour in Afghanistan, Jodie realized she would need help in her second transition out of the military, so she reached out for counseling at VA.
"I knew that if I was going to move forward and investigate any other career field or do anything that was going to be a positive change, I needed to consult other people," Jodie explains. "I just became more active in empathizing with other people, volunteering, and sharing my story with other people, and that really set the stage for me to go into my current profession."
Jodie's therapy and growth led to a new calling: She is now the executive director of a nonprofit organization that serves women Veterans. "If you need help, get it," she adds. "The rewards that you will reap from being authentic and open will open so many doors."
Like Jodie, TJ found himself with no clear plan after leaving the U.S. Army in the early 1980s. He felt aimless, made excuses to drink, and had a run-in with the police.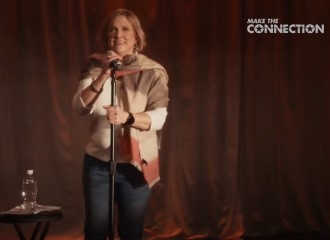 "When I got out of the service, life didn't connect for me, and everything I did — afterwards, I would drink," TJ says. "I couldn't keep a job. I couldn't pay the bills. I couldn't pay rent. I was homeless most of the time. I was just sort of existing."
After spending a night in jail, TJ started attending Alcoholics Anonymous meetings. He found comfort — as well as direction and purpose — in helping and connecting with fellow Veterans. "I could see me in them, and the more I looked at them, the more I wanted to be better so that I could help them," TJ says. "And I'm starting to like the reputation that I have among people. People call me and ask me for advice. I like where I'm heading because I feel purposeful."
Susan, a U.S. Navy Veteran, also found a new calling through therapy, taking a roundabout path to her dream after military service. About 18 months after leaving the Navy, she lost her hearing in one ear. Susan worked with her local VA facility to enroll in acupuncture treatment for her hearing loss and join group therapy sessions with other Veterans experiencing similar challenges.
Through these programs and support systems at VA, Susan gained the courage to try something she always wanted to do: stand-up comedy. She continues to perform and considers it to be a form of therapy, connecting with her audience by making them laugh.
"I think it's realizing that there's so many more things left in life for us to do," Susan says. "Connect with someone at the VA. Find out what's there for you. You really don't have anything to lose by checking into it and seeing what they can do for you."
---