After Treatment for Substance Misuse, a Veteran Gains a Sense of Purpose
January 26, 2023 | 4-minute read
Michael enlisted in the Army for the same reason many people do: He wanted to see the world. But instead of broadening his horizons, his service as a missile repairman left him feeling beaten down and anxious about his future. By the time he transitioned out, he didn't know what he was going to do with the rest of his life.
"I was in such a dark, dirty place that I never thought there was any light at the end of the tunnel," Michael recalls. He increased his substance use: One beer would turn into one bottle of whiskey; one hour would turn into all night. All of that, he says, "turned into not showing up for work, turned into unemployment, turned into everybody in the family suffering."
The bad decisions kept coming, with higher and higher stakes and worsening results, like homelessness and legal problems. Finally, as a group, Michael's family asked him to get help. That intervention led him to VA.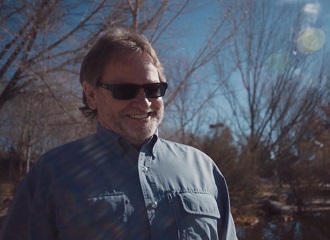 "I really had no expectation of what it was supposed to be like," Michael says. He followed his team's recovery plan, which included prolonged exposure and cognitive behavior therapies. Both of these proven talk-based treatments help Veterans manage posttraumatic stress disorder (PTSD) and reprocess traumatic memories.
"Reliving my incidents, even though that was the toughest — it did allow me to process some of the things that I've been through with my PTSD," Michael says. Eventually, the therapy desensitized him to what he had been through, and that robbed the nightmares of their strength and allowed him to sleep again without fear.
Instead of diving right back into civilian life as he had after leaving the Army, Michael eased back in following treatment. "Transitional living" is what he calls the time he worked in the community and rented a place to live from VA. He is grateful for that time to explore the many positive possibilities for his future.
"I found my niche," Michael says. "If I wouldn't have given myself a chance to do so many different options, I wouldn't be here right now. I wouldn't be here."
Michael spends a lot of time volunteering, feeding people experiencing homelessness and providing peer support to his fellow Veterans. He says this work gives him the opportunity to help "people that are in the same situation as I am, and show them that there's a way out of it. It provides a lot of hope."
Michael finds happiness in riding motorcycles, hiking and going to the movies, and he has gained perspective on the long view of his life. "My whole life really is revolved around recovery now, and helping others and paying back," he says. "I know part of my life now will always require some tuning up. And it's OK. It's OK to call somebody. It's OK to talk to somebody."
"Don't be afraid to get the assistance," Michael says. "The journey of a thousand miles starts with the first step."
---