Anniversary Effect Recalls Valencia's Trauma
October 19, 2022 | 4-minute read
In September 1989, Hurricane Hugo cut a ruinous swath through the northeastern Caribbean and the southeastern United States, affecting an estimated 2 million people and killing 67. Valencia had been in the U.S. Navy for two years and was traumatized by the damage and destruction of the Category 5 storm. "It was just that, you know, I felt so helpless and hopeless," she explains.
For years afterward, Valencia felt unsettled and anxious every August or September. She was experiencing what is known as the "anniversary effect" or "anniversary reaction," when the date or even the season in which a trauma or loss occurred triggers an unexpected emotion. Some people don't even realize that they are having an anniversary reaction, because — as in Valencia's case — it can start in the weeks or months before or after the actual anniversary date.
"I would just fly off the handle," Valencia says. "It was like I was just on pins and needles." Not everyone has the same reactions as Valencia. Some have panic attacks or physical symptoms like fatigue or aches. But perhaps the most common reaction on the anniversary of a trauma is a repeat of the feelings, bodily responses and thoughts that occurred at the time of the event.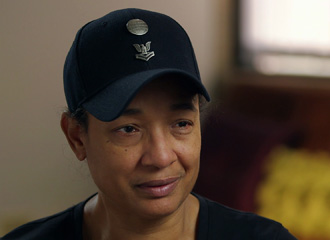 "I believe in 1992 that I had an episode like that, and I went to the primary care doctor and was prescribed medication for it, and they gave me a test — a psych test."
Valencia was afraid that if she answered all the test questions honestly, she would be discharged from the Navy, where she enjoyed the comradery and teamwork. So, she didn't disclose that she had thoughts of suicide, feelings of hopelessness or bouts of anxiety and explosiveness every year. As a result, her emotions were attributed to other causes, like premenstrual syndrome or hormone fluctuations even after she had a hysterectomy.
After several years, Valencia visited her regional VA facility, where she started talking about Hurricane Hugo. "I'm talking about it and crying," she recalls. "I was just uncontrollably crying, just the thought of it and having to talk about it. And even my husband was, you know, vouching for me as well, and they changed the diagnosis to anxiety disorder."
When Valencia was later undergoing treatment for breast cancer, the chemotherapy she received caused cognitive dysfunction. That was the last straw. Valencia was ready to give up. "I had decided I was either going to my mom's and dad's house, which was on the way to the VA hospital, or I was going to the VA hospital," Valencia says. She passed her parents' street, knowing she had to get help.
"I was in the hospital almost a month, and when I got out, I had an individual therapist. And I really started talking about a lot of things that, you know, were weighing heavy on me," Valencia says. "I feel that it helps me to be in a place where I'm hearing about other people. I also feel I have something that I can contribute to someone else, possibly. And to me, you know, that has … been my, I guess, guiding force, as far as how I'm learning to deal with people and having relationships that are good relationships that work."
Valencia's treatment at VA had such a positive effect that she encourages other Veterans to apply for the VA benefits they worked so hard to earn. "You owe it to yourself, you know? They're here for you."
If you are experiencing unpleasant emotions that might be tied to the anniversary of a trauma, you may want to see a professional for further assessment. The sooner you seek help, the sooner you will begin to feel better. There also are things you can do to help manage your symptoms and give your provider some direction:
Write down any dates that have traumatic or stressful memories attached to them. You may be able to identify a pattern that can help you prepare in the future. Remember, you don't have to experience symptoms on the actual date that a trauma occurred to feel the anniversary effect. The weeks — and even months — surrounding that date can be tough, too.
Observe the day with special plans, like visiting a memorial, donating blood or giving to charity.
If your trauma was related to a major news event, like a national crisis or natural disaster, limit your media consumption around those dates, as TV, newspapers, radio and internet sites often replay coverage on major anniversaries.
Whether it's an anniversary or not, if you're feeling bad, get it out. Talk with a family member, a therapist or a friend, or find creative ways to express your emotions, like journaling or blogging.
---