Help for Handling the Holidays
December 07, 2020 | 3-minute read
Kyle didn't realize how seriously he had been affected until he came home.
"I had to do all that Christmas shopping," the U.S. Army combat Veteran remembers. "Something that seemed so innocent — being in a crowded mall — that was a tough circumstance to be under," Kyle says.
Jim had a similar experience when he returned from Operation Restore Hope, a humanitarian mission in Somalia. After he was injured, he left the Marine Corps, but the emotional scars didn't leave him.
"Christmastime, he would just sit in the room away from everybody or walk into a different room if a large crowd came in," recalls his wife, Terri, a Navy Veteran.
Although Kyle and Jim didn't share the same combat experience or diagnosis, they both found themselves feeling on edge around the holidays. That's not unusual. While stress responses can be triggered anywhere, anytime, for many Veterans, the places, the music and noises, increased social interaction, and familiar smells that come with major holidays are particularly difficult. Crowds of people — whether strangers at a holiday parade or loved ones at a party — can add to the pressure.
At the same time, the absence of traditional holiday festivities — whether the result of homelessness, loss of a loved one, isolation, or any number of conditions — can also trigger unhealthy responses such as anxiety, depression, or problems with drugs or alcohol. No matter when they fall on the calendar, holidays can be reminders of happier times, before relationships were difficult or transitioning from military service meant returning to a familiar setting as a different person.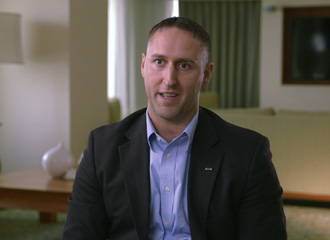 Jim had issues with anger, sleep, and hypervigilance for years, and when his marriage ended, it became too much for him to bear. "It all crashed at one time," he says. "That's when I started getting real treatment from my posttraumatic stress disorder."
Kyle had sustained a traumatic brain injury (TBI) from a grenade blast during his deployment in Afghanistan, affecting both his mental and physical health. When he got home, he says, "I scanned every room I would go into. I sat with my back against a wall. I never, never let anyone come up from behind on me, anything like that."
For Hal, a Marine Corps Veteran who served in Vietnam, the year-end holidays marked an annual pattern of unhealthy behaviors. "Every winter, starting in like September, I would start down into depression, and I would bottom out about Christmastime," he says. Hal survived major depression and a suicide attempt before he found himself in treatment more than 20 years after leaving the Marines.
"They said, 'You need to go to the PTSD program,'" Hal remembers. "And so I did this 90-day inpatient program. I've learned how to deal with my depression, and I've learned how to deal with my rage and my anger."
Hal found solace in support groups and group therapy, starting with Narcotics Anonymous, which helped him stop using drugs. He eventually found the mental health resources he needed through VA.
"Getting involved in the VA put me back in touch with other combat Vets," Hal says. "That's a huge part of normalizing who I was and realizing that I wasn't alone in this process."
Kyle, too, finds comfort in forging connections with other Veterans. "I think you get a little bitter, knowing that you had seen things that 99.9% of the population hadn't seen," he says. "So for me, it was 31 other guys that I knew that could relate, but a lot of us were having a hard time adjusting. We were trained well for war, but we weren't really trained to come home."
In addition to finding a kinship with his fellow Veterans, Kyle learned strategies at VA that helped him cope with the light sensitivity, irritability, memory lapses, and debilitating headaches that came with his TBI.
"I can sit with my back to the door if it comes down to it. I don't scan every room. I don't get as irritated with the general public as much. I can handle questions, about my service — about what it was like over there," Kyle says. "And I've definitely noticed it's a lot easier now to handle that. And you have your bad days, but I know how to cope a lot better nowadays because of the treatment that I sought and that I received from the VA."
For Jim, therapy at VA has quelled his anger, improved his marriage to Terri, and allowed him to enjoy life more. "He's out more in public, a lot more," Terri says. "Prior to that, he didn't really like to go anywhere — he tried to avoid crowds. And now, like at Christmas, he is actually in the crowd with everybody opening presents, talking to people. So, it has helped out a lot."
If you need help getting through the holidays, or anytime, connect with local resources for Veterans. Veterans in crisis and their families and friends may also contact the Veterans Crisis Line, which connects them with qualified, caring VA responders. Veterans and their loved ones can Dial 988 and Press 1, chat online, or send a text message to 838255 to receive confidential support 24 hours a day, seven days a week, 365 days a year.
"We owe it to our brothers and sisters that didn't come home to make sure that we take care of ourselves," says Kyle.
---