LGBTQ+ Veterans Open Up About Hiding in Plain Sight
June 22, 2023 | 3-minute read
Monty saw a lot of changes in the world while he served in the Navy from the Vietnam War Era through the Desert Era. But one thing didn't change during his 20-year career in the military: the policy that barred people of certain sexual orientations and gender identities from military service.
"I knew that I was gay long before I joined the Navy," Monty says. "But you know, for my security clearance I wasn't about to say that I was gay. If I did, you know, then my chances of then getting in the Navy was zilch."
When he returned to civilian life after serving, he felt lost and directionless. "I went back to my hometown, tried to get into school to use my GI Bill, but my drinking increased," Monty says. After multiple DUI charges, he sought therapy and treatment for his alcohol use. And changes in military policy allowed Monty to accept himself and live openly.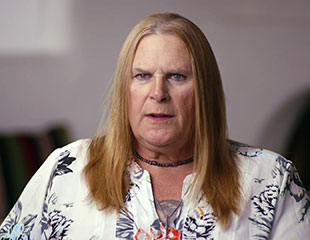 "That one issue there that I wouldn't address — because I had [been] so fearful of being in the closet, and what I had gone through in the service dealing with that — and that once that ban was lifted, you know, that gave me the freedom to complete my recovery," he explains.
For many members of the LGBTQ+ Veteran community, keeping their sexuality or gender identity secret was even more than a matter of protecting their military career or security clearance — it was a matter of life or death.
Sue was used to living with her identity under wraps. She had been keeping her gender identity hidden since childhood, and she did the same thing while she served in the Navy. She explains, "I had to pretend to be a guy, and I called it — as I grew up, I called it 'wearing my man suit.' I just had to hide it all the time."
Sue completed a year of service in the Gulf of Tonkin during the Vietnam War and was about to go home when she experienced severe violence.
"On the night before my discharge, I was attacked by six men, knocked out, and I was raped and sodomized and left for dead. So that had a major effect on the rest of my life," Sue says. She started drinking heavily because "it helped me to disguise. It helped me to try to forget. I couldn't function anymore. I had no pride anymore. So, it got to that point where I couldn't live — I didn't want to live."
Sue eventually was able to stop drinking but had difficulty holding a job or having a meaningful relationship. A friend took Sue to VA, where Sue joined a program for Veterans with posttraumatic stress disorder and found a therapist. "That's when I was able to get help to start my new life," Sue says. "If I didn't have the VA, I'd still be out there, or dead."
Sue still talks with her psychiatrist a few times a year and with her social worker regularly. When things get tough, Sue participates in VA support groups for transgender Veterans. "We can talk about issues — different things that people are going through, the fear of doing a lot of things. So, there's somebody available at any time."
Sue adds, "I'm free to be who I am, and it took a long time to get here. If you're tired of living like you're living, there is help. You don't have to have this pain. You don't have to carry this alone. You know, there's thousands of us out there. The help is there."
---