Trauma, Transitioning and Treatment
July 21, 2022 | 4-minute read
Justin served in the 6th Ranger Training Battalion and the Army's 101st Airborne Division. A year after enlisting, he was deployed to Iraq, where he lost his best friend within the first 30 days. His service remained difficult.
"My battalion hit 900 IEDs, and there was gunfights every other day," Justin recalls. "We ended up losing 1 out of every 3 guys in my platoon, and then over 55% of my company was wounded in action."
Brent served with Justin in the 101st Airborne Division. Both men experienced severe trauma, and both felt its effects after they transitioned out of the Army.
"When you're in the military … you're always so busy," Brent explains. "It's super easy to kind of keep your problems on the back burner."
However, soon after Justin and Brent transitioned out of the Army, both men were overwhelmed by their service memories and the stresses of unstructured, nonmilitary life. After leaving the military, Brent says, "You've got to figure everything out for yourself. … It was kind of like hitting a wall. Like everything became real all of a sudden."
Brent came home three months after his first child was born. A short time later, Brent learned his father had brain cancer. In an attempt to dull his daily stressors and forget the traumas he endured in the Army, Brent started drinking.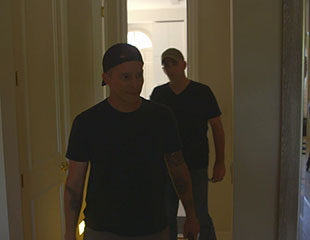 Justin tried a different way to cope with his experiences. Even while he was still serving, Justin began isolating himself. After he transitioned out, he had nightmares and other sleep trouble, overreacted to stimuli and had cognitive challenges — like forgetfulness — related to a traumatic brain injury.
The effects of each man's service trauma strained relationships at home, and both men ended up divorced from their wives.
"I knew my wife before I joined the Army," Brent says. "After a deployment or two, then she started saying things like: 'I don't even know you anymore. You're not the same person I married' — that kind of thing. And in her defense, I wasn't."
Brent says his stressors finally reached a boiling point where "not getting help became unsustainable."
Justin realized he needed to seek help when his symptoms began to affect other areas of his life. "It started to affect me professionally," he says. "My relationship had ended, and then that was just kind of the last straw. And I was just like, I've got to do something about that."
Justin says his first experience at VA was "a crisis-type situation" where he walked into the polytrauma ward at his local facility and said, "I need help, like immediately." Justin underwent exposure therapy in which he taped himself recounting his traumas and then listened to the tapes repeatedly while journaling. "It takes the power of those events away from their capacity to affect you physiologically, psychologically," he explains.
Therapy was emotionally exhausting for Justin, but he feels mentally stronger now. He draws parallels between improving mental health and physical health: "In the military, if you needed to up your PT score, you go to the gym, and people look at really strong people in the gym and they're like, 'Well, how did you do that?' I picked up a bunch of heavy stuff and I put it back down again. … And that's legitimately what you have to do with this."
Each Veteran works with their provider to develop their unique plan for healing. For Brent, cognitive processing therapy (CPT) was the route to better well-being. "I had a lot of guilt about a lot of things that had happened or I had seen or done," he says. CPT allowed him to see his experiences objectively, as if they happened to someone else, and reevaluate his responses.
For both men, the healing process was slow but led to huge changes. "Every little piece of something I etch away at … I feel less burdened by it," Brent says. "I am able to go out and meet people and talk to people, and, actually, I feel alive again."
Justin encourages his fellow Veterans to explore the VA mental health resources they have earned and not to give up. "It may be your first therapist isn't the right one for you. It may be that group therapy isn't right for you. It may be that exposure therapy isn't right for you. But if you attack the problem and use your military mindset that you got, you will find success. You know what I mean? And that level of success is different for everybody, for sure, but you'll get to where you want to be."
---