Veterans on Managing Change and Anxiety
January 12, 2023 | 3-minute read
After transitioning out of the Army, Jessica returned to her civilian life with the zeal of a Soldier on a new mission. She hit the ground running and immediately enrolled in graduate school.
"I just kind of thought, 'OK, fresh start — new chapter in life. And here we go. I'll be OK.'"
Despite her best intentions, starting over wouldn't be that easy. It rarely is. Lifestyle changes — whether it means stopping unwanted behavior, like smoking, or building on a positive one, like going back to school — can be tough for any number of reasons: poor planning, bad timing or unfocused goals, to name a few. That's why around one-third of New Year's resolutions don't make it to February, and only half last through the year. For Jessica, it was unresolved symptoms of depression and anxiety that she first experienced when she started her military career.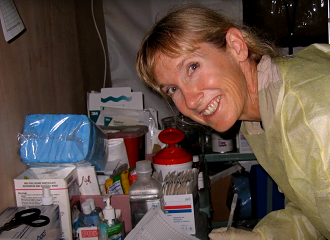 "When I reported to my duty station, my orders had changed and I had an entirely new position," Jessica says. "And I was deploying for a year-plus right away. I felt like I didn't have enough time to prepare." The sudden changes and uncertainty brought up feelings from her childhood, and Jessica began to blame herself for events both major and minor — from analytical errors to battalion catastrophes. That wore on her mental health.
During Jessica's transition out of the Army, her depression and anxiety spiked higher than ever, undermining the new life she was building as a Veteran. "I almost got kicked out of grad school," she explains. "I would get into deep depression and not be able to attend my classes. It caught the attention of my bosses; it caught the attention of my roommate. I was really at the end of my rope."
Like Jessica, Linda returned to school after transitioning out of the military. After a 20-year career in the Army and the Air Force — including deployment to Iraq as a combat nurse — she pursued a career as a psychiatric nurse practitioner. Her experience as a Veteran has helped shape the advice she offers to her Veteran patients — particularly those who may be stuck on the path toward achieving their goals.
"I usually say there's, like, about three things we really got to focus on," Linda says. "One is therapy; you have to process that trauma. Two, there might be medications involved; they help with the symptoms. And three, an area that I don't think we focus on enough, is finding a purpose in your life again. For me, it was going back, getting my psychiatric nurse practitioner [degree], becoming someone that can help."
Over time, Jessica had undertaken limited therapy, but when her symptoms began to include thoughts of suicide, she knew she needed more. At her local Vet Center, she really hit it off with a new therapist.
"She tells it how it is, and so I felt like I left with something," Jessica says. "I'm learning ways to deal just in general in life — and not only deal with what has happened in the past but deal with what comes up now."
One helpful tool has been learning to be open and honest about her mental health with people who care about her. Another has been asking for help when she needs it. "I wish I knew that years and years ago — that asking for help is amazing. It's a good thing," Jessica says. "There are tons of people out there that care and that are at the ready to be there for you. And they're amazing. Just give them a chance."
Whether you want to keep a New Year's resolution or are just ready to make a change, talk with your VA provider about resources and tools that can help you reach your goals.
---