Veteran's PTSD Treatment Led Him To Help Others
October 04, 2022 | 4-minute read
Jordan just wanted to re-up his medication for attention-deficit/hyperactivity disorder (ADHD) when he first went to VA.
"I know I have ADHD — been diagnosed with it, did all the exams. I was on Adderall when I was in the Army," Jordan says. He explained that to the staff at VA, who told him he had to see a therapist to get a new prescription. But obtaining ADHD medication was not the only reason to see a therapist. He also had posttraumatic stress disorder (PTSD).
Jordan's mental health challenges began while he was serving as a combat medic in Afghanistan. A mortar blast burst both of his eardrums and left him unconscious in the dusty haze. Adding insult to injury, while he was being treated at the Warrior Recovery Center, it was rumored that he had threatened suicide if the Army returned him to combat duty.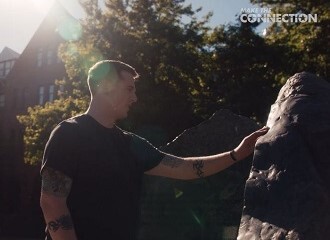 "A lot of my platoon didn't think that I was trying to be there with them," Jordan says. "That just kind of made it even worse — that I was like, 'I'm not there. I can't be there. They won't let me go there.' And that kind of just sent me down a nice spiral, at that point of just feeling useless."
The rumor was so devastating to Jordan that he almost did put his life at risk. "I was drinking every day. Definitely hit me pretty hard mentally," he says. "I was like, 'Well, if I stay in here, I'm probably going to hurt myself or someone else. And I don't want to do that.'"
Jordan was still in Afghanistan when he was first diagnosed with PTSD. "There was a pretty clear and obvious criterion even and all the fun symptoms that I had, with nightmares, poor sleep, really bad affect, substance use — all that stuff," he says.
After transitioning from the military and seeking his ADHD medications at a VA facility, Jordan met the therapist who changed the trajectory of his life.
"A lot of people knew him in the University of Washington, because he did some adjuncting there as a professor," Jordan explains. "He worked at the VA, and when him and I started talking, he just had this way of understanding what I was saying without having to dig into all the terminology and what all these acronyms and abbreviations mean. So it made the conversation go real easy."
The therapist suggested prolonged exposure therapy to help Jordan cope with his trauma-related memories. "Going through that whole process with prolonged exposure really helped me personally desensitize some of the areas that were pretty harmful or triggering," Jordan says. "One of the bigger things that I learned was that you have to actually be honest. It's really easy to just kind of sweep things under the rug. … If you're just burying them down, it's not going to help you, and it's not going to help anyone else, because they won't know. I think that was the big lesson that I had."
Confronting his military injuries and trauma — the experiences that he had been "willing to dump away and just forget about" — led Jordan to a fulfilling career helping fellow Veterans as the assistant director of Student Veteran Life at the University of Washington. While earning his doctorate in psychology, Jordan's research focused on the benefits of Veterans receiving health care from providers who also served in the military. He often helps Veterans pursue appropriate care at VA or a local Vet Center.
"I think giving back is just this thing that makes me feel good, and it helps other people, so it's a win-win in that situation," Jordan says. "I just kept getting more involved with different Veterans things, and now it's very much like a key component and critical analysis of my life. … There's no shortage of resources. If you need help, it's there, but you can't get help if you don't ask."
---