Families Can Spot Signs of Veterans' Mental Health Concerns
February 22, 2023 | 4-minute read
It's understandable that many Service members aren't the same after leaving the military. Sometimes, intense military service can cloud a Veteran's thoughts and hinder them from fully recognizing the changes they have undergone. Because of that, when a Veteran transitions back to civilian life, it's often one of their loved ones who first notices the signs that the Veteran may be facing a mental health challenge.
A Veteran's family members and friends can see changes in behavior over time. For example, shyness is not unusual — but when someone who has always been the life of the party stops going out and shuts down in crowds, they may be dealing with more than what's on the surface. Struggles with employment, substance use, the legal system or finances, relationships and more may surface during or after active duty, but they often have a deeper, internal origin — such as stress, posttraumatic stress disorder (PTSD), physical health concerns, depression or anxiety.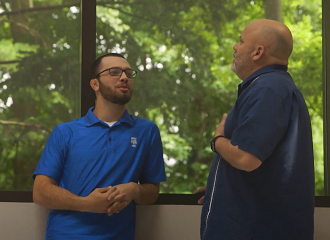 Although not everyone acts or reacts the same when they are going through a tough time, there are many telltale signs that things aren't going well, including:
Anger and lashing out.

Troy

, who served in the Marines during the Desert Era, grew

angry

and lashed out at people he loved when his worry and anxiety became overwhelming.

Isolating.

Jasmine says her father,

Ed

, tends to

isolate

himself when he's not doing well. In fact, the Army Veteran fell completely out of touch for years while he experienced

homelessness

and

substance use disorder

.
Not talking about the past.

The first red flag for

Jenny

was that her brother

David

wouldn't talk about his U.S. Army service after coming home from the Vietnam War. There were other signs too — like drinking, nightmares, and employment and financial concerns — and David was eventually diagnosed with PTSD.

Self-medicating.

Phillip

had unrelenting traumatic memories from an aid mission to Honduras following a major earthquake. Phillip tried to keep his thoughts at bay, but the Veteran Navy Seabee's

nightmares

became so disturbing that he did anything he could to avoid sleep, including taking methamphetamine.
In addition to being the first to spot a potential mental health challenge, Veterans' loved ones are often best positioned to provide help and support. Even people who don't understand what a Veteran is dealing with can still help them find the resources they need.
"If you're a family member, I'd say be persistent, be gentle, and just let that Veteran, that Service member, know that [they're] loved and things will get better. They do," says David.
If a Veteran you care about is having a rough time, you can always talk to them — and the Coaching Into Care program can help with that conversation. You can also talk with their health care provider about your concerns. And if you are a Veteran, talking with your family and friends about the difficulties you're having can be an important first step on your path toward recovery.
"You got to accept who you are and what your flaws are," David says. "And you got to forgive yourself and celebrate your family and those who … want nothing but good things for you."
---