Four Inspiring Stories From Women Veterans
March 24, 2021 | 7-minute read
When Yasmeen was serving in the U.S. Navy, she witnessed a friend and fellow sailor lose his life, and she felt as if she never got the chance to fully grieve and process what happened. She held in her emotions throughout the rest of her service and even back home, after returning to civilian life.
"I didn't smile, I didn't laugh, I didn't show no emotion. I was just like numb," Yasmeen recalls. "I didn't trust nobody. I was secluded."
Realizing that her isolation was harming not only herself but also her relationship with her children, Yasmeen knew she needed to seek help. She began working with a psychiatrist at VA to address the trauma she had experienced. Through counseling, she was able to relive the experience and talk about it without shutting down emotionally. "She started bringing me back to me," Yasmeen says.
Since finding support at VA, Yasmeen has reconnected with her children and gone back to school, where she found comradery with other student Veterans. She says they all share similar stories of overcoming hardships and finding a new sense of purpose in their lives.
Women are the fastest-growing cohort in the military, making up nearly 13% of the Veteran population. They may experience a range of challenges after returning to civilian life –– but like Yasmeen, many have found support and success through VA services and tools that helped them open up about their experiences.
"What do they say? A closed mouth don't get fed? You have to say something, because nobody truly knows what is going on with you," Yasmeen says. "And if you don't let them into your world, they can't help you."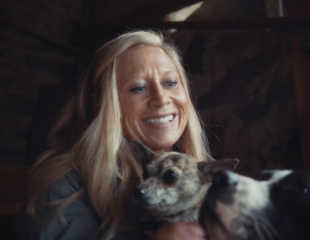 While Lucinda was serving in the U.S. Coast Guard, she lost her three-month-old son to sudden infant death syndrome. After the funeral, she had a difficult time dealing with her grief and began using alcohol as a way to dull her pain. That led to losing the first job she had landed since leaving the Coast Guard.
"So I sought help through the VA," Lucinda says. "I was diagnosed with PTSD, which I did not buy into at all. I hadn't been in the jungle. I hadn't been in the desert. I mean, I knew something was wrong with me, but I adamantly denied that I had PTSD."
Even though Lucinda didn't think the trauma of her son's death had a major effect on her mental health, she found herself hiding or lying in the fetal position every time she heard the sirens of an ambulance. She began to realize something had taken a toll on her, but it wasn't until her granddaughter was born that she decided to be more proactive in addressing her PTSD symptoms. Through VA's inpatient and outpatient programs, Lucinda learned to manage her stress and anxiety.
"I'm starting to feel more. My passion for things has come back. I have a deeper desire to be close to people," she says. Lucinda has even started a support group for Veterans dealing with PTSD and substance use disorders, using her story to inspire her peers.
As a teenage boy, Millye realized that she identified as a woman and wanted to make the transition, but she never told anyone. She served as a nurse in the Army during the Vietnam War, but was discharged after her superiors learned of her plans to transition. Millye made the transition and went on to become a teacher after earning her degree, but her relationship with VA was still fraught.
A close friend from her Army service told Millye that VA had evolved over the years and now offered programs specifically for transgender Veterans. Millye now uses VA resources to help Veterans experiencing similar situations and has shared the challenges she experienced when she was younger.
"It's mostly dealing with my learning how to forgive and move forward," she says. "I've waited many, many years to have this conversation, and now it's here."
Priscilla served in the Marine Corps for 10 years. Because she joined right after graduating from high school, it became a major part of who she was. When the time came to rejoin civilian life, she experienced an identity crisis. In addition to the challenges of trying to navigate this new world, she went through a divorce and the death of a loved one.
"The depression manifested itself very slowly," Priscilla says. Then, about eight months after leaving the Marines, she had her first anxiety attack. It was a sensation she had never experienced — a feeling she felt she had no ability to control.
Priscilla's mother encouraged her to speak with someone at VA. She recalls working with her VA counselor to open up about what she was going through. "You weren't just a number," she says. "It was very liberating. I always felt like a weight was lifted off my shoulders every time I went."
Through this healing process, Priscilla has been able to have a much healthier and more enjoyable relationship with her children and family. And whenever she comes in contact with Veterans who are facing challenges, she advocates seeking mental health support.
"No matter what you're feeling, somebody else is feeling that way too, and that's really the main takeaway," Priscilla says. "You're not alone, and somebody else feels the same way you do."
Celebrate the women Veterans in your life by supporting their recovery and reassuring them that no matter what they are dealing with –– the death of a loved one, substance misuse, an identity crisis, or feeling hopeless –– VA can help them through it.
---