Support Comes In Many Forms
May 19, 2022 | 4-minute read
"Trying to adjust to being a civilian, being back in the States — it was not good," says Susan, a U.S. Navy Veteran who served in Afghanistan. "It felt strange to go outside without a bunch of gear on. I got quite a few speeding tickets my first year or two after I got off active duty, because I just was used to very aggressive driving."
Then, about 18 months after transitioning out of military service, Susan suddenly lost all hearing in her left ear. "It changed my perception," she says. "I felt very vulnerable. I felt very unsafe. I couldn't tell where sounds were coming from. Everything sounded different. Everything was louder. … It almost hurt to listen to some things."
When she started developing anger issues, Susan contacted her local Vet Center, where she was diagnosed with posttraumatic stress disorder (PTSD) and major depression. Her treatment at VA included group therapy, which she describes as "awesome." "[The groups] solidified to me that I'm not the only one," she explains. "It's not just me that has these experiences. … They've recovered from it, or they're working on it, so it gives you hope that that's possible."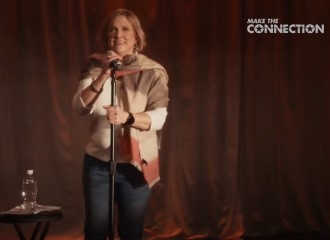 Like Susan, Ray had difficulty adjusting after he transitioned out of the U.S. Army. "I felt like I was a fish out of water — that I didn't fit in with everybody else," he says. He started drinking, which led him down a dark spiral that included divorce, homelessness, and jail.
Through court-ordered mental health treatment, Ray was diagnosed at his local VA with PTSD. "That's when I realized, 'Hey, I'm not the only one going through this, man,'" he says. "I started to open up the doors about what I've been experiencing and what I've been dealing with for the past 10 years in my life."
The mental health support Ray received had a profound effect on his life. It showed him the power of connecting with other Veterans and taught him that trouble shared can be trouble halved. That led him to build supportive connections with others in his area. He is starting a nonprofit for Veterans and getting together with a group of like-minded Veterans to do what they love to do: ride their motorcycles on the open road.
"When I'm riding in a group of other Veterans that have gone through the struggles, that have been through this storm, riding side by side, there's something very different about it — something very special about it," Ray says. "We just get together, get out there and explore and really forget about everything and be in the moment. Focus on the road ahead of me."
While Susan and Ray found support through other Veterans and in VA care, Daniel's first line of support was his wife, Gemini. Daniel met Gemini while he served overseas in the U.S. Navy, and they were cast as husband and wife in a play. Daniel was a mass communications specialist, documenting natural disasters and combat — sometimes while mortars fell around him. He served more than one tour in Iraq, and the experiences took their toll on his sleep, work, and mental state, which he describes as anxious and hypervigilant.
After nearly a decade of watching Daniel make his mental health a low priority, Gemini spurred him to get treatment. She told him, "You're a hero to your country. You're a hero to your family. You really need to be a hero to yourself. You need to get the support you need and the help that you've earned."
Daniel enrolled in a virtual pain clinic through VA and felt comfortable talking with the doctor about his mental health concerns. He was eventually diagnosed with PTSD. "He was more comfortable," Gemini says. "He was more relaxed. It was like we had the old Daniel back."
"Just reach out to your local VA or even just a civilian hospital," Daniel says. "I encourage you to do this. I guarantee you won't regret it."
---