Enduring Harassment, Confronting Pain and Finding Support: A Veteran's Experience
December 15, 2022 | 3-minute read
At the age of 18, Shirley wanted to see the world before thinking about college or settling down. Plus, she was a bit of a rebel, so the conventional path wasn't very appealing. Joining the military seemed like a great option.
Shirley spent two years as a journeyman welder in the Army. There were very few women in welding school then — only two out of 300, Shirley says — so she wasn't surprised that she was treated differently. "You know that everybody's looking at you to fail," she says. "Lots of things happen — sexual harassment, assault. It was just coming at me viciously from all sides."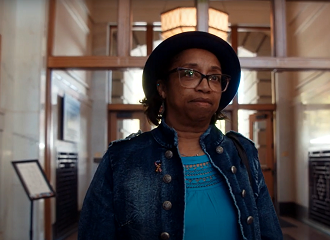 Shirley never told anybody, instead stuffing her experiences and emotions down deep. "You couldn't tell anybody how you detest something that somebody's saying," she says. "You suck things up, and you didn't complain: 'I'm good. Everything's fine.' But it's not."
After two years in the Army, Shirley became a Navy radioman, working in telecommunications. She served for another 19 years before transitioning out. Ignoring what happened to her for all those years took its toll on her physical and mental health.
"As a woman, you bury it so deep, it's almost like you forgot it ever happened," she says. "Some of us just go ahead and decide our silence has to be permanent — and some choose to get help."
Because Shirley had high blood pressure and sleep apnea, she underwent a sleep test, which somehow unlocked the memories she had suppressed for so long. "I would see faces of the people that either harassed me or tried to assault me," she says.
"Doing all the work that I did was helping me through the rough times," Shirley says. "What I failed to realize was there was too much that I was doing."
Shirley joined a stress management counseling group at VA where she could open up to fellow Veterans about her life. "We bonded well together. We were a team. We stuck up for each other. We understood each other," she says. "Being able to talk to somebody that knows your pain, feels your pain, but we're in it together — it's really helped a lot of us. I felt like I'd found another home."
Shirley calls that positive experience a wake-up call that led her to eat healthier and exercise more. And she has worked hard to heal from her experiences in the military. Now, thanks in large part to the support of her Veterans group, the mother of four and grandmother of eight can say: "I've accomplished a lot. … I'm a good person. I don't have to be a superwoman. I can just be me."
---